The Humane Society of Westchester has a very active and involved Board of Directors. In addition to setting strategy and policies for the shelter, they are directly involved in management, finance, human resources, fund-raising, community projects (such as Trap, Neuter, Return) and events.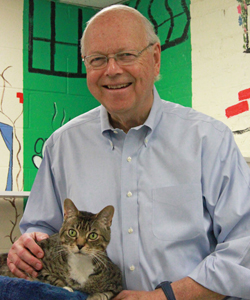 John Feldtmose, President
John joined the Board in 1998 as vice president. He was responsible for all financial and administrative management. In 2014 he was elected president upon the retirement of Carlette Allen.
John attended Harvard University and is a Fellow of the Society of Actuaries. For 30 years he was an executive of a large multinational financial services firm on Wall Street, serving as management consultant and then President/CEO. He retired from business in 1997. He has been on several boards of non-profit organizations in Westchester and New York City, as well as being a volunteer at the Wildlife Conservation Society at the Bronx Zoo.
John is an avid yacht racer and squash player. He and his wife and three senior kitties live in Larchmont.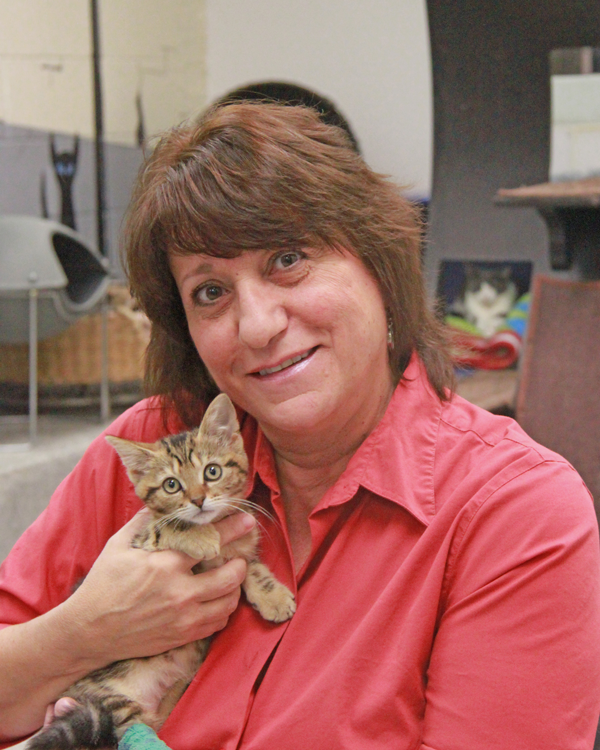 Carol Marinaccio, Vice President
Carol walked into the shelter in 2008, weeks after suffering the loss of her 20 year old cat. Right away, Carol was amazed to see how caring the staff and volunteers were. Carol fell in love with a shelter cat and took him home that day, filling that aching void in her life. She decided that very moment, that the Humane Society of Westchester was the place she wanted to be.
Carol spends her volunteer time walking dogs, socializing cats, fundraising and everything else that is needed. In 2011, Carol became a member of the Board of Directors. Carol's true passion is the shelter's Trap-Neuter-Return program which she helps fund by raising money to cover costs. Carol works full time, but knows that nothing compares to the payback she gets by looking into the eyes of an animal that knows it is safe and loved. She cries many tears of sadness, but so many more tears of joy when animals go to their forever homes.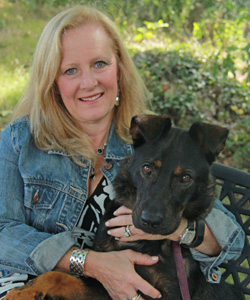 Judith Elkin, Treasurer
Judith has been on the board of the Humane Society since 2012.  She is a partner at a large law firm in New York where she specializes in international insolvency law.  She assists the Board with its legal issues, as well as with general matters.  Judy has always loved animals and joined the Board to help make the lives of all animals as good as the lives of the numerous spoiled furry creatures who share her home.  Over the years, her menagerie has consisted of guinea pigs, gerbils, rabbits, cats and dogs.  Currently she lives in New Rochelle with her husband Ralph, black lab Dallas and lop-eared bunny Coniglio (which means rabbit in Italian).  She and her husband love to travel.  They often collect art made by local artisans when they travel.
Melissa Romita, Secretary
Melissa has volunteered for many years at the shelter, in various capacities: volunteer orientation leader, TNR (Trap-Neuter-Return) trapper, dog walker.  Melissa also enjoys attending community events, meeting new people and educating them about the shelter's many services and activities.
Melissa earned a bachelor's degree from the University of Michigan and a law degree from American University. She practices real estate law in Westchester County, where she lives with her husband Michael, daughter Izzy, and three cats Theo, Whitman and Parker.
Paul Amerling, DVM
Paul is now on the Board of Directors for the second time. He received his bachelor's degree in Animal Science and Agricultural Biochemistry from the University of Delaware, and his doctorate from Ross University College of Veterinary Medicine. He is the Chief of Staff at Miller Clark Animal Hospital in Mamaroneck, NY, which is credited with being one of the oldest veterinary practices in the country (started in 1903). Dr.
Amerling shares his home with his wife, 2 kids, 2 dogs (Winston and Magnum), and a fish (Rosy). When not taking care of animals in one way or another, he can be found running in obstacle races/mud runs, camping with his family, or participating in one of the many sports he enjoys.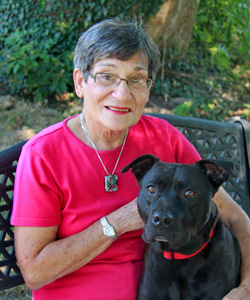 Dianne Heim
Dianne has been a volunteer at the shelter since 1996 and a board member since 1998.  She has held various jobs, first as Board Secretary and Volunteer Coordinator and now as coordinator of the Sponsor-A-Pet and Buy-A-Brick fund raising programs.   She also writes the shelter's newsletter, acts as host for Girl Scout and school groups who visit the shelter and is active in fund raising events.
Dianne graduated from CCNY majoring in economics and statistics.  She worked as a statistician for 8 years and, after a hiatus of being a mother and PTS president, taught for 18 years at Fox Meadow School in Scarsdale.
Her love for animals and nature is evident by the fact that she has been a docent at the Bronx Zoo for over 20 years, a Naturalist giving classes and tours to children for over 5 years at the Sheldrake Nature Center in Larchmont and by her devotion to the shelter from where she adopted two cats and five dogs over the years. One dog and two cats remain sharing life with Dianne.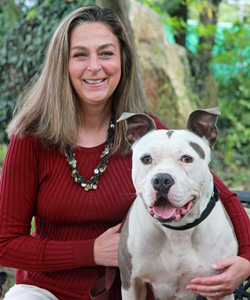 Lee Anne Veley
Lee Anne joined the Humane Society of Westchester Board of Directors in 2007 and has been an active volunteer at the shelter since 2003.  In addition to her board work, Lee Anne has trapped over 200 feral cats within the Westchester Humane Society's TNR (Trap, Neuter, Return) program and regularly fosters kittens too young to be adopted. Lee Anne works in the shelter's Train-to-Adopt group helping to train and enrich the lives of our dogs.
Lee Anne retired from IBM in 2014 after 31 years working in a variety of sales, technical and executive positions.
Lee Anne shares her home with her husband Dave, her German Shepherd Mix Red and her cat Silas.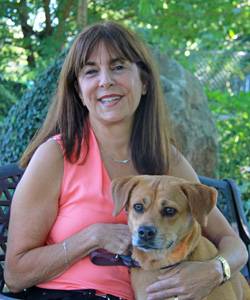 Diane Wade
A lifelong animal lover Diane started volunteering at the shelter 15 years ago at the urging of her two young daughters. Diane has been involved with many projects and fundraisers, has led the junior and family volunteer programs, and utilized her advertising creative director career skills to help with the organization's rebranding, and creation of marketing messaging. Eleven years ago she joined the board.
Diane is now the CEO of doremus fp/dfp graphics – a financial printing, and consumer printing, concept and design company. She and her late husband Dave (who was also a devoted volunteer) raised their 2, now twentysomething daughters in New Rochelle, where Diane still resides with her two dogs, Kazoo and Sadie.
Carlette Allen
Carlette, Director Emeritus, served as a visionary leader of our shelter for many years. Originally recruited onto the Board of Directors in 1992, Carlette served as our President from 1998-2014. While serving as Treasurer (1994-1998) and during her tenure as President, Carlette was very instrumental in re-establishing the shelter's financial security. While she was President, we saw remarkable growth: in the number of communities we serve, from 12 to 19 today, in the number of successful adoptions per year, in the condition of our building and the grounds, and in our financial condition.
Carlette was an executive with a real estate management firm in Manhattan for over 40 years. She and her late husband, Dick, were very active in the Village Lutheran Church in Bronxville for many years.
As a devoted animal lover, Carlette had many dogs over the years including Laddy Boy, Misty, Piper, Fancy and Honey.