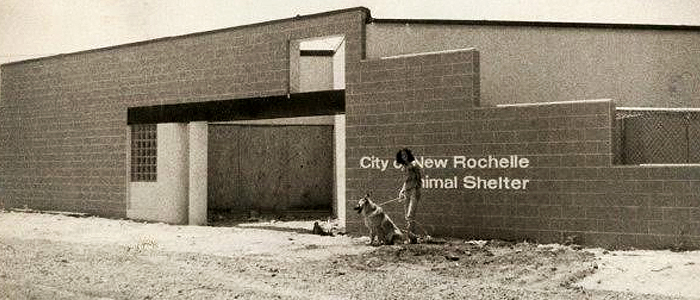 Our History of Caring
In May 1911, 15 dedicated New Rochelle residents formed the Society for the Prevention of Cruelty to Animals to protest New York State's muzzle law which they were successful in getting repealed. William B. Ogden, Jr. was elected the first president.
When the Society's executive committee met in 1912 they decided there was a need for a "permanent society for the protection and kindness for animals in New Rochelle." The name of the organization was changed to the New Rochelle Humane Society (NRHS). The initiation fee for membership was set at $1.00.
The Society's 296 members voted in 1915 to buy water receptacles for horses and dogs that were installed at each of the City's fire houses some, with street-level basins for cats.
Fundraising began in 1916 to build a shelter at the foot of Morgan Street. The cost was estimated to be $3,500. The annual report stated, "… today 125 dogs are enjoying 'life, liberty and the pursuit of happiness,' that otherwise would have been destroyed. Homes were also found for twenty cats."
The Society was formally incorporated in 1922 under the name of the New Rochelle Humane Society. Its mission was to "Foster kindness to dumb creatures and to protect and promote their welfare." A new shelter opened on Morgan Street.
In the 1930s and 1940s the slogan was "Every dog with a home – every home with a dog."
The Underhill Memorial Fountain was dedicated in 1933 in honor of John Quincy Underhill, a village trustee and president and a member of the board of education in the late 1800s. The sculpture was Louis Paul Jonas who executed the African Elephant Group in the American Museum of Natural History.
According to the 1933 annual report there were 62 other animals (in addition to dogs and cats) at the shelter including goats, squirrels, a monkey, a baboon, rabbits, pigeons, canaries and a sick turkey. 65 court cases of cruelty to animals were prosecuted under the Farms and Market Law by the Humane Society and 35 cats were rescued from tree tops.
When NRHS celebrated its 25th birthday in 1936 it had grown to 618 charter members from the original 15.
Not only did dedicated men and women enlist in the service, Mr. Skips, a young German shepherd dog enlisted in April 1945 in the Army's K-9 Corps where he had guard duty and reconnaissance. Other shelter dogs were to follow.
Dog obedience training programs began in 1948. Classes were given at Barnard School.
A complete renovation of the shelter was completed in 1965.
Dedication of a new shelter took place on July 22, 1981 on Emmett Terrace which was officially renamed "Humane Lane."
As part of the City of New Rochelle's urban renewal project that made way for Home Depot and Price Club (now Costco) NRHS on Humane Lane was forced to move to its present location at 70 Portman Road. The 65 year old building once housed a dairy and bakery but had been standing empty for years. On July 18, 1996, 75 dogs, 80 cats and one Canada goose were relocated.
The shelter went through a major renovation in 2008. By reconfiguring our existing space we were able to create a second free-roaming cat room, kitty play rooms, cat adoption rooms and a dog isolation room. In 2012 we renovated our surgical and recovery area so that we can better serve the animals needing medical care.
Our shelter has always been all about the animals.  In recognition of serving 19 communities, we formally changed our name to Humane Society of Westchester in 2015.  In 2021, we commissioned a greatly expanded and fully renovated facility which was meticulously designed to create a healthy, low stress environment for the over 500 dogs and 900 cats that we house each year.  All the best modern sheltering techniques have been utilized to create quieter, modern spaces with lots of sunlight and fresh air.  We continue to increase the number of animals adopted every year.