Raffle: Support our "Help Heal Fund" to Support Healing Care!!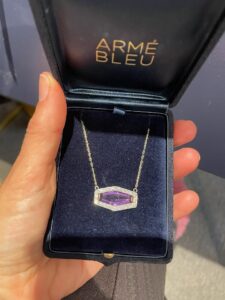 Another AMAZING donation from our good friends at Armé Bleu to benefit our Help Heal Fund!!
With every donation of $100.00, you will be entered to win this gorgeous necklace valued at $3,000.00. This wonderful piece includes an Amethyst center stone with a diamond halo.
Click on the red button below to donate, or you can donate directly at the shelter.
The Humane Society of Westchester at New Rochelle rescues hundreds of animals each year, many arrive in need of extensive (and expensive) medical care due to sickness, injury, abuse and neglect.
Donations made to our Help Heal Fund enable us to provide these animals with the special care they need. Your contribution can help save a life. We greatly appreciate your continued support!
DONATIONS CAN ONLY BE MADE THROUGH THE LINK BELOW,
IN PERSON AT THE SHELTER, OR BY MAIL: